No headstone for Casey?
I haven't corroborated
this
yet, but SMASH is usually a pretty good source. I would certainly say that there was been more than enough time, 2 years, to get a marker of some kind put on his grave.
This site (seems to be Cindy's site) purports to show the temporary wooden cross on Casey's grave in "Arlington West" cemetary on August 23, 2005." However this seems to be the symbolic grave site set up in Crawford at "Camp Casey".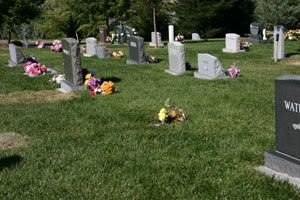 This is the original site of the photo SMASH uses and the blogger on that site claims to have received the photo from a Vacaville reporter. Also includes a post stating that she hasn't had time to get a marker.
Meanwhile posters, rather loud posters, on the Randi Rhodes show forum claim that she has no marker because all markers at Arlington National Cemetary for Iraq and Afghanistan veterans are government provided and come with a motto that she does not approve of. Consequently she decided to go with the plain wooden marker.
However Vanity Fair and the New Republic both state that the gravesite is in Vacaville-Elimira cemetary in the photo a photo is included in Vanity Fair's January 2006 issue for the magazine's 2005 Best of the Best -- "Heroes! Winners! Guilty Plea.
So take your pick; a) Cindy hasn't had time to get a marker, b)Casey is buried in two different places, c) Cindy doesn't know she can buy the marker herself, or d) Cindy has spend all the the $250,000 dollar insurance payout from the government and is too cheap to buy one and won't accept the government provided marker